Where
Centro de Investigacion en Matematicas (CIMAT)
Guanajuato, Mexico
Important Dates
Paper submission deadline: August 1st August 7th, 2022 Notification date: September 1st September 5th, 2022 Camera ready date: September 19th September 23rd, 2022
Welcome to MIG 2022!
Motion plays a crucial role in interactive applications, such as VR, AR, and video games. Characters move around, objects are manipulated or move due to physical constraints, entities are animated, and the camera moves through the scene. Motion is currently studied in many different research areas, including graphics and animation, game technology, robotics, simulation, computer vision, and also physics, psychology, and urban studies. Cross-fertilization between these communities can considerably advance the state-of-the-art in the area.
The goal of the Motion, Interaction and Games conference is to bring together researchers from this variety of fields to present their most recent results, to initiate collaborations, and to contribute to the establishment of the research area. The conference will consist of regular paper sessions, poster presentations, and as well as presentations by a selection of internationally renowned speakers in all areas related to interactive systems and simulation. The conference includes entertaining cultural and social events that foster casual and friendly interactions among the participants.
This year, MIG will be held in a hybrid format: you may choose to attend in person in the lovely town of Guanajuato, México or to attend virtually. We will ask all remote presenters to present their work with a live presentation and to provide us a backup recording in case of connection problems.
Registration
Please note that at least one author registration is required for every published paper, in order to meet the costs of the conference. To attend the conference, please register by clicking the button below.
In-person attendance
| Registration type | Before october 4th | After october 4th |
| --- | --- | --- |
| Full | 450 USD | 500 USD |
| ACM Member | 400 USD | 450 USD |
| Student | 200 USD | 250 USD |
Virtual attendance
| Registration type | Before october 4th | After october 4th |
| --- | --- | --- |
| Paper presenter (full) | 150 USD | 200 USD |
| Paper presenter (ACM) | 100 USD | 150 USD |
| Poster presenter (full) | 100 USD | 150 USD |
| Poster presenter (ACM) | 50 USD | 100 USD |
| Non author | Free | Free |
Keynotes
Ming C. Lin is a Distinguished University Professor, Dr. Barry Mersky and Capital One E-Nnovate Endowed Professor at University of Maryand. She received her B.S., M.S., Ph.D. degrees in Electrical Engineering and Computer Science from the University of California, Berkeley. She is a former Elizabeth Stevinson Iribe Chair of Computer Science at the University of Maryland at College Park (2018-2020), and an Amazon Scholar. Her research interests include computer graphics, robotics, and human-computer interaction, with focuses on physically-based modeling, sound rendering, haptics, algorithmic robotics, virtual environments, interactive techniques, geometric computing, and distributed interactive simulation. She has (co-)authored more than 300 refereed scientific publications and co-edited/authored four books.
Current industry trends and challenges in video game navigation
Abstract: Over the past decade, the game development industry has been slow to innovate, and to adopt academic innovations, in the field of character navigation, despite a clear understanding of the limitations of current standard practices. In this talk, I will first examine those standard practices, and explore the use cases that are least well served by them, concentrating in particular on use cases related to emerging trends and market forces. I will then examine the cross-cutting practical concerns which have limited the adoption of technologies which could better serve those use cases, and speculate about potential avenues for accelerating that adoption.
Ben Sunshine-Hill is the lead developer of Havok AI, a library for character navigation in video games. His work has recently been used in Borderlands 3, Doom Eternal, Gears 5, Zelda: Breath of the Wild, Halo Infinite, Deathloop, and Elden Ring. He has a PhD in Computer Science from the University of Pennsylvania; his thesis, "Perceptually Driven Simulation", focused on maximizing the perceived realism of large simulated worlds. He also makes a pretty good pizza.
Immersive Interaction from the Inside
Abstract: When we move the users beyond flat screens into immersive games, we open new avenues for embodied interaction. Once inside the immersive content, users expect to locomote naturally, but their spaces might be tiny, they want grab objects in their surroundings but they lack haptics, or can crash against their furniture, they also experience issues with their actual performance, how will you play an immersive tennis game if you are indeed a very poor tennis player. All of these issues get even more amplified from an accessibility perspective. This shift from 2d to immersive, comes with a set of new constraints and opportunities we will discuss in this keynote.
Mar Gonzalez Franco is a Research Scientist at Google working at the forefront of the Immersive Devices research. In her research she tries to advance AR/VR, from Avatars, to haptics to locomotion to everything in between, to do so she builds new devices and experiences while studying human behavior, perception and neuroscience. She was priorly at Microsoft Research where she led the release of the Microsoft Rocketbox avatars and accompanying libraries, envisioned the Avatars in MS Teams, and contributed to multiple other products and features such as Together Mode, Microsoft Soundscape, Hololens and Mixed Reality as well as XBOX.
Apart from her prolific scientific contributions, she has a deep interest in helping the community grow more diverse and was recently awarded the IEEE VGTC VR Award.
(Find out more in her website: https://margonzalezfranco.github.io/).
program
Thursday, November 3rd
09:30am – 10:00am
Opening remarks
02:00pm – 03:45pm
Session: Animation Synthesis
Toward Believable Acting for Autonomous Animated Characters. Cassidy Curtis, Sigurdur Orn Adalgeirsson, Horia Stefan Ciurdar, Peter McDermott, Jd Velásquez, W. Bradley Knox, Alonso Martinez, Dei Gaztelumendi, Norberto Goussies, Tianyu Liu and Palash Nandy.
S2M-Net: Speech Driven Three-party Conversational Motion Synthesis Networks. Aobo Jin, Qixin Deng and Zhigang Deng.
Visual dubbing pipeline with localized lip-sync and two-pass identity transfer. Dhyey Patel, Houssem Zouaghi, Sudhir Mudur, Eric Paquette, Serge Laforest, Martin Rouillard and Tiberiu Popa.
04:00pm – 05:30pm
Session: Motion Analysis and Perception
A new framework for the evaluation of motion datasets through motion matching techniques. Vicenzo Abichequer Sangalli, Ludovic Hoyet, Marc Christie and Julien Pettré.
Learning Gait Emotions Using Affective and Deep Features. Tanmay Randhavane, Uttaran Bhattacharya, Pooja Kabra, Kyra Kapsaskis, Kurt Gray, Dinesh Manocha and Aniket Bera.
Impact of Self-Contacts on Perceived Pose Equivalences. Jean Basset, Badr Ouannas, Ludovic Hoyet, Franck Multon and Stefanie Wuhrer.
Friday, November 4th
09:00am – 10:45am
Session: Motion Capture and Extraction
Let it Go! Point of Release Prediction for Virtual Throwing. Goksu Yamac, Jackey J.K. Chai and Carol O'Sullivan.
A Tool for Extracting 3D Avatar-Ready Gesture Animations from Monocular Videos. Andrew Feng, Samuel Shin and Youngwoo Yoon.
A Practical Method for Butterfly Flight Motion Capture. Qiang Chen, Tingsong Lu, Yang Tong, Yuming Fang and Zhigang Deng.
02:00pm – 03:45pm
Session: Motion Control and Editing
Learning High-Risk High-Precision Motion Control. Nam Hee Kim, Markus Kirjonen and Perttu Hämäläinen.
Time Reversal and Simulation Merging for Target-Driven Fluid Animation. Gowthaman Sivakumaran, Eric Paquette and David Mould.
Warping Character Animations using Visual Motion Features. Alberto Jovane, Pierre Raimbaud, Katja Zibrek, Marc Christie, Ludovic Hoyet, Anne-Hélène Olivier, Claudio Pacchierotti and Julien Pettré.
04:00pm – 05:30pm
Session: Crowds
Stealthy path planning against dynamic observers. Wael Al Enezi and Clark Verbrugge.
Avoiding virtual humans in a constrained environment: exploration of novel behavioral measures. Yuliya Patotskaya, Ludovic Hoyet, Anne-Helene Olivier, Julien Pettre and Katja Zibrek.
Understanding Reinforcement Learned Crowds. Ariel Kwiatkowski, Vicky Kalogeiton, Julien Pettré and Marie-Paule Cani.
06:00pm –
Poster Session + Happy Hour
Saturday, November 5th
09:00am – 10:45am
Session: Materials and Rendering
Simulating Fracture in Anisotropic Materials Containing Impurities. Avirup Mandal, Parag Chaudhuri and Subhasis Chaudhuri.
Parallel Block Neo-Hookean XPBD using Graph Clustering. Quoc-Minh Ton-That, Sheldon Andrews and Paul G. Kry.
Dynamic projection mapping on deformable stretchable materials using boundary tracking (invited C&G paper). Muhammad Twaha Ibrahim, Gopi Meenakshisundaram, Aditi Majumder.
An integrative view of foveated rendering (invited C&G paper). Bipul Mohanto, Abm Tariqul Islam, Enrico Gobbetti, Oliver Staadt.
12:00pm – 12:30pm
Closing remarks
Committees
International Programme Committee
Adam Bargteil
UMBC
Aobo Jin
University of Houston, Victoria
Ari Shapiro
University of Southern California
Ben Jones
University of Utah
Brandon Haworth
University of Victoria
Caroline Larboulette
Université de Bretagne
Christos Mousas
Purdue University
Damien Rohmer
École Polytechnique
Edmond S.L. Ho
Northumbria University
Edward Zell
Bonn University
Eric Patterson
Clemson University
Franck Multon
Université Rennes
Hang Ma
Simon Fraser University
He Wang
University of Leeds
James Gain
University of Cape Town
Julio Godoy
Universidad de Concepción
Jungdam Won
Seoul National University
Kai Xu
National University of Defense Technology
Karan Singh
University of Toronto
Katja Zibrek
INRIA
Kenny Erleben
Copenhagen University
Libin Liu
DeepMotion Inc.
Loic Barthe
IRIT - Universitè de Toulouse
Matthias Teschner
University of Freiburg
Michiel van de Panne
The University of British Columbia
Qi Sun
New York University
Rachel McDonnell
Trinity College Dublin
Rahul Narain
Indian Institute of Technology Delhi
Sheldon Andrews
École de technologie supérieure
Shinjiro Sueda
Texas A&M University
Sophie Jörg
Clemson University
Soraia Raupp Musse
PUCRC
Sylvie Gibet
University of Bretagne Sud
Tianjia Shao
Zhejiang University
Tianlu Mao
Institute of Computing Technology Chinese Academy of Sciences
Tiberiu Popa
Concordia University
Xiaogang Jin
Zhejiang University
Xiaohu Guo
The University of Texas at Dallas
Xin Li
Louisiana State University
Yin Yang
Clemson University
Yiorgos Chrysanthou
University of Cyprus
Hong Qin
Stony Brook University
Marcelo Kallman
University of California, Merced
Submission
Paper and poster submission information
Important Deadlines (anywhere on earth)
Paper submission deadline: August 1st August 7th, 2022
Paper submission notification date: September 1st September 5th, 2022
Camera ready date of accepted papers: September 19th September 23rd, 2022
Poster submission deadline: September 12th, 2022
Poster notification: September 23th, 2022
Final version of accepted posters: September 30th, 2022
Call for Papers/Posters
We invite work on a broad range of topics, including but not limited to:
Animation systems
Behavioral animation
Character animation
Clothes, skin and hair
Crowd simulation
Deformable models
Facial animation
Game interaction and player experience
Game technology
Gesture recognition
Group and crowd behavior
Human motion analysis
Interaction in virtual and augmented reality
Interactive storytelling in games
Machine learning techniques for animation
Motion capture & retargeting
Motion control
Motion in performing arts
Motion in sports
Motion rehabilitation systems
Multimodal interaction: haptics, sound, etc.
Navigation & path planning
Particle systems
Physics-based animation
Real-time fluids
Virtual humans
Papers
We invite submissions of original, high-quality papers in any of the topics of interest mentioned above or any related topic. Each submission should be 4-10 pages in length, including references. The review process will be double-blind, which means that paper submissions must be anonymous and include the unique paper ID that will be assigned upon creating a submission using the online system. Papers should not have previously appeared in, or be currently submitted to, any other conference or journal. All papers will be reviewed carefully by the International Program Committee members.


The program will consist of regular paper sessions for long and short papers, posters, and invited talks by a selection of internationally renowned speakers from Academia and the Industry. This year, we are introducing a new Journal track for long papers, which will be published in the Computer & Graphics Journal. Overall, there are two paper tracks (Conference and Journal). The conference track will have long and short papers, and the Journal track will only accept long papers. Authors can submit in either track, but it is up to the reviewers to recommend journal or conference acceptance. Conference papers will be archived in the ACM Digital Libraries with their own DOIs. All accepted papers (both tracks) will be presented at MIG 2022.
All submissions will be considered for the Best Paper, Best Student Paper, and Best Presentation awards, which will be conferred during the conference. Authors of selected best papers will be referred to submit extended and significantly revised versions in the IEEE Transactions on Visualizations and Computer Graphics (TVCG).
Posters
We also invite submissions of poster papers in any of the topics of interest and related areas. Each submission should be 1-2 pages in length. Two types of work can be submitted directly for poster presentation: (i) Work that has been published elsewhere but is of particular relevance to the MIG community can be submitted as a poster. This work and the venue in which it as published should be identified in the abstract; (ii) Work that is of interest to the MIG community but is not yet mature enough to appear as a paper. Posters will not appear in the official MIG proceedings or in the ACM Digital library but will appear in an online database for distribution at author's discretion.
Submission Instructions
Papers should be anonymized for double-blind reviewing. Posters will be reviewed single-blind, so author information may be included.
All papers should be submitted electronically using EasyChair: https://easychair.org/conferences/?conf=mig2022
For poster submission, please submit a 1-2 page abstract to the poster track on the same Easy Chair link. You can use any paper format, though the MIG paper format is recommended. In addition, you are welcome to submit supplementary material such as videos.
Supplementary Material
Due to the nature of the conference, we strongly encourage authors to submit supplementary materials (such as videos) with the size up to 200MB. They may be submitted electronically and will be made available to reviewers. For Video, we advise QuickTime MPEG-4 or DivX Version 6, and for still images, we advise JPG or PNG. If you use another format, you are not guaranteed that reviewers will view them. It is also allowed to have an appendix as supplementary material. These materials will accompany the final paper in the ACM Digital Library.
ACM Formatting
All submissions should be formatted using the SIGGRAPH formatting guidelines (sigconf). Latex template can be found here.
Venue
Guanajuato and CIMAT
ACM/SIGGRAPH MIG2022 will be hosted at Centro de Investigacion en Matematicas, Guanajuato, Mexico
Reaching Guanajuato
We advise you to get at BJX airport, the closest international airport to Guanajuato (30km away approx.) with several connections to the US. From the airport, you can reach Guanajuato by taxi or bus.
Accomodation
Here is a list of hotels for which you can get a
special rate
through CIMAT. When booking, send an email through the link on the
name
of the hotel of your choice and
simply mention that you will be attending the Annual ACM SIGGRAPH Conference on Motion, Interaction and Games event at CIMAT to get the CIMAT special rate
. Use also the code below, if mentionned (some hotels have one, others not).
Note that Corazon Mexicano has three hotels in Guanajuato. If this is the hotel of your choice, "Hotel Suites Corazón Mexicano", which is the closest to CIMAT.
For students, CIMAT has a limited number of free shared rooms at CIMATEL, CIMAT academic hotel with breakfast included. If interested, please write to the local organizers for information and booking.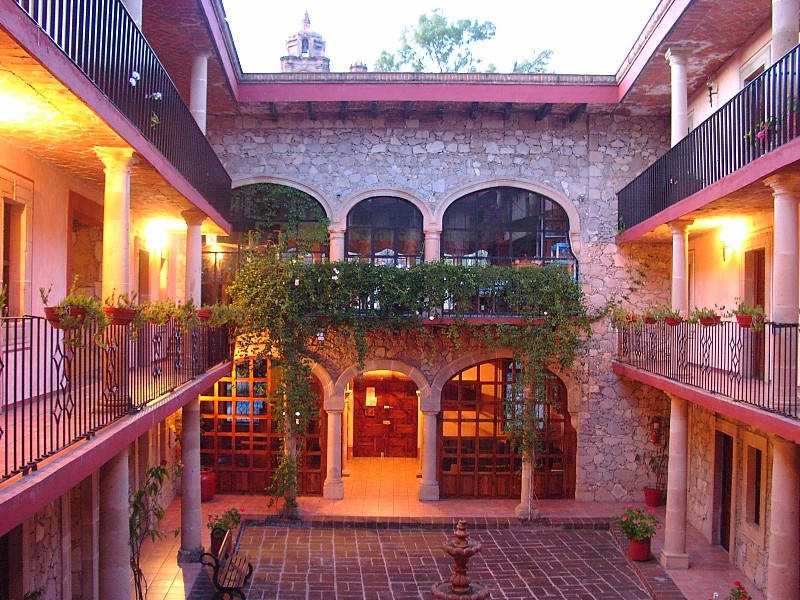 Please contact the
local organizers
for any doubt on accomadation/transportation/local arrangements!
Guanajuato
Guanajuato is a colorful and picturesque town located in the central highlands of Mexico. Its strong mining past (gold and silver) has made its bonanza in the 18th century and explains the beauty of its palaces, mansions, plazas, churches, theaters. Famous for its narrow alleys, it is a popular tourist destination in Mexico and is part of the UNESCO heritage list. Because of its altitude (2000m), the weather there is never too hot and quite temperate. Although some parts of the countries (and even in the surrounding Guanajuato state) may be unsafe, the city of Guanajuato has been a quiet place, with many Europeans and North Americans living here. The conference venue is CIMAT, a federal research center located on the Valenciana hill, approximately 3kms from downtown.